Banner with Leaves and Branches
Create with Procreate Stamps
---
Try this banner tutorial using leaves & branches brush stamps on the Procreate app for iPad!

What you will need:

iPad
Apple Pencil
Procreate App
10 Leaves & Branches Procreate Stamps
Banner stamps
- or -
Hand drawn leaves & branches
Hand drawn banner

Background and brush colors are your choice.

I chose a muted peachy-beige background and black brush color for a deep contrast.

1. Either stamp or hand draw a banner with light shading and creasing.
2. Type or letter a phrase of your choice. I chose "Joy."
3. Add leaf stamps layers under banner layer. Adjust size as needed.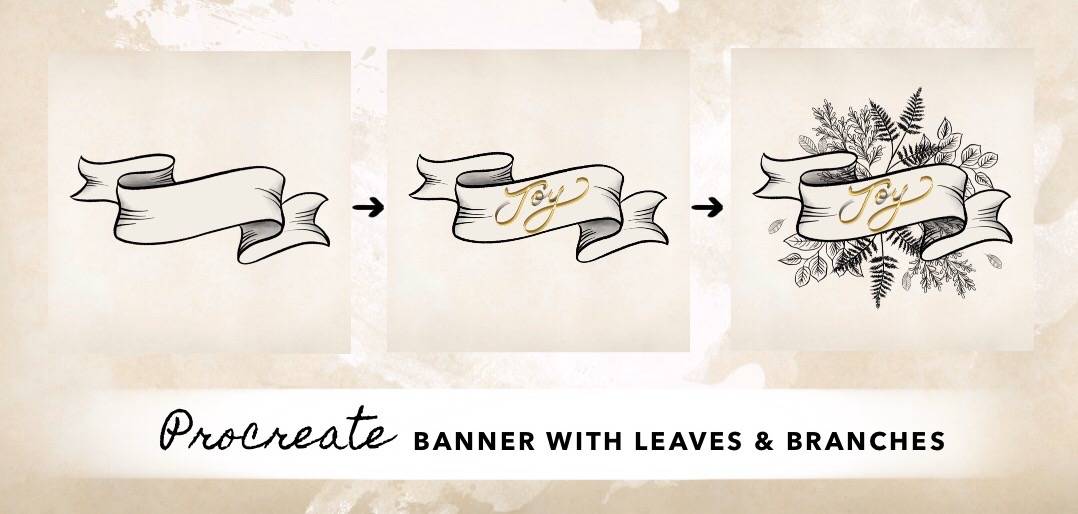 See the video below for a quick tutorial! Notice how I adjusted each stamp and moved them to balance the top and bottom of the banner.
Click the pictures below to see 10 Leaves & Branches Procreate Stamps.
Leave a comment
Comments will be approved before showing up.
---
Also in The Printable Haven Blog
Check out our inspirational concepts for Instagram stories. If you like this and our artwork, be sure to follow us on social!
Create a sketch window in Procreate using Symmetry.
Add light to artwork quickly & easily.